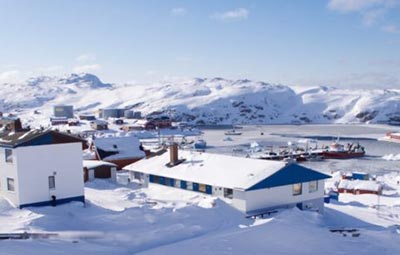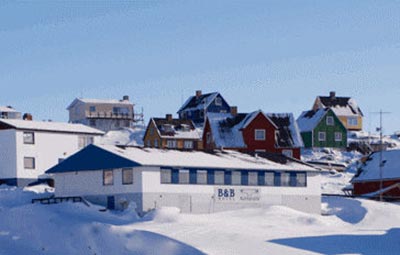 Hotel
Værelserne er meget store, lækre og komfortable – selvfølgelig med bad og toilet samt TV og fri Wifi
Fra værelserne kan du hele året nyde den storslåede natur:
Fra vintermørkets fantastiske nordlys og stjerner over et snedækket landskab og isdækket hav – henover forårets brag af lys og sne til sommerens utrolige midnatssol og legesyge hvaler i skærgården.
Har du ikke lyst til, eller mulighed for, at gå på restaurant, kan du selv tilberede alle måltider i det fælles køkken, som vi har indrettet til vore gæster.
Morgenmaden kan du selvfølgelig også selv lave eller, fra os, bestille en "morgenmadspakke" som vi stiller til dig tidligt om morgenen i køleskabet.
Vi glæder os til at se dig!
Enkeltvær.: DKK 950,- EUR 130,-
Dobbeltvær.: DKK 1.300,- EUR 175,-
Adresse: Sannerut 7, 3950 Aasiaat
Email: info@nattoralik.gl
Hotel
The rooms are spacious, delicious and comfortable – of course with shower and toilet, free Wi-fi and TV.
From the rooms you can, all year, enjoy the magnificent scenery:
From winter darkness spectacular Northern Lights and stars over a snowy landscape and sea ice cover – over the spring blast of light and snow to the summer's incredible midnight and playful whales in the archipelago.
If you do not want or are unable to go to a restaurant, you can even cook all meals in the communal kitchen we have arranged for our guests.
Breakfast you can of course also make there, or from us book a "breakfast pack" which we make to you early in the morning and place in the fridge.
We look forward to seeing you!
Single room .: DKK 900, – EUR 120, –
Double .: DKK 1.250, – EUR 150, –
Address: Sannerut 7, 3950 Aasiaat
Email: info@nattoralik.gl
Akunnittarfik
B&B Akunnittarfinnguaq nuannersoq Aasiaat illoqarfiata qeqqani inissisimavoq, ukiup qanoq ilineraniluunniit Aasiaat talittarfianut illoqarfimmut avammullu isikkivigissumiippoq.
Neriniartafimminngaanniit minutsini tallimaani tikinneqarsinnaavoq.
Sinittarfiit tamarmik angisuujupput, uffarfeqarput, atortorissaaruteqarlutik Wi-Fi fladskærm-inik DVD-eertalinnik.
Eqqissisimasumik nuannersumik avatangiiseqarpoq, ulloq naallugu sulisinnaavutit isikkivigissorluunniit eqqissillutit isiginnaarlugu.
Ukiup taarnerani alutornartumik isiginnaarneqarsinnaapput, nuna apummik qallersimasoq imarlu sikusimasoq, unnuakkullu qaammatigik, arsarnerit ulorissallu, upernarssakkullu aput seqinermik qaammarissoq, avataanilu arferit pinnguartut aammattaaq alutorsaatigineqarsinnaapput.
Nammineq nerisasiorusukkaanni iggaveqarpoq nerisarfeqarlunilu.
Ullaakkorsiorusuttunullu ullaakkorsiutinik piareersaasinnaalluta.
Takunissannut/sinnut